2014 ACRC Bowl Series: AIC vs Bowling Green
Saturday November 22, 2014 - 12:00 AM
November 22, 2014

-

11:15AM

@ ACRC Bowl Series @ Rugby Athletic Center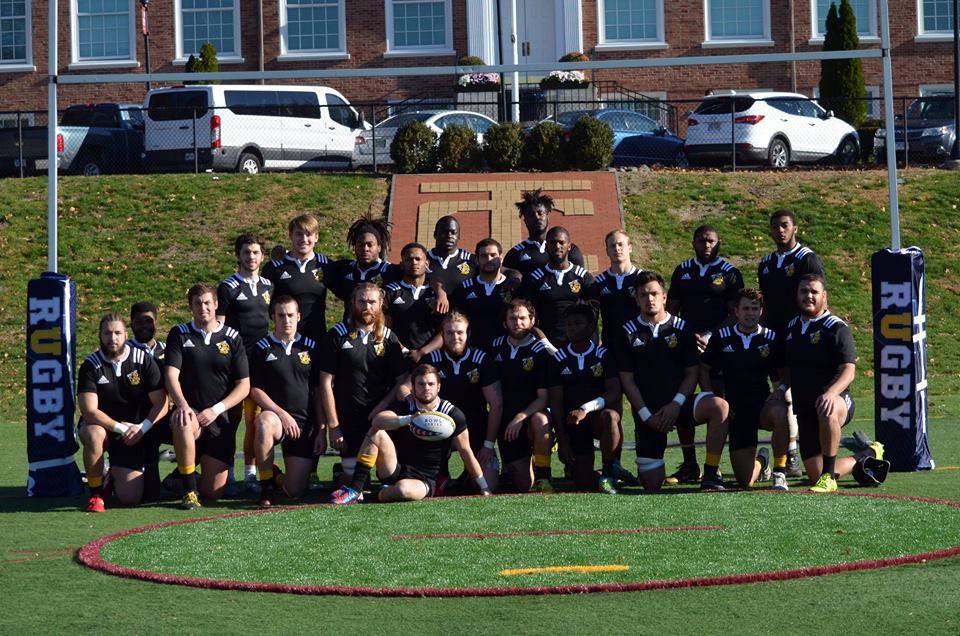 A determined AIC pulled out a dramatic win against a hard-charging Bowling Green side at the ACRC Bowl Series in Charlotte. In a game up for grabs almost until the final whistle, the Yellow Jackets prevailed against the Falcons 46-40. 
Match Highlights
A comfortable 24-0 lead for AIC evaporated in the second half as the men of Bowling Green fought their way to a one-run deficit at 41-40 with under 6 minutes to play. Bowling Green wing Steve Fritsch scored what turned out to be the Falcons' final try, with a conversion by Mike Powell. Gavan D'Amore-Morrison answered with a try for AIC with less than two minutes left, sealing the deal for the Yellow Jackets. Bowling Green would take the ball downfield one last time but prove unable to score in the final seconds of the game. 
American International College Yellow Jackets Lineup

Skyler Adams - Prop
Blake Gurgul - Hooker
Jamal Hadley - Prop
Corey Momsen - Second Row
Connor Gleason - Second Row
Brian Lizotte - Flanker
Gavan D'Amore-Morrison - Flanker
Matthew Jones - Eight Man
Kurtis Werner - Scrum Half
Jihad Khabir - Fly Half
Christian Adams - Wing
Adrian Ray - Center
Seth Halliman - Center
Deshae Edwards - Wing
Bryce Neff - Full Back

AIC Alternates

James Everhart - Front Row
Stephen Fobes - Front Row
Justin Leaphart- Second Row
Anthony Castro - Loose Forward
Josue Guerra - Scrum Half
Jacob Ponder - Inside Back
John Jackson - Inside Back
Tarik James - Outside Back

Coach: Josh Macy

Bowling Green Falcons Lineup

Corey Bohach - Prop
Phil Bryant - Hooker
Adam Bialecki - Prop
Allen Viancourt - Lock
Alex Garnaut - Lock / Captain
Neal McNamara - Wing Forward
Frank Viancourt - Wing Forward
Sean McFarland - Eight
Mitch Sora - Scrum Half
Nick Ross - Fly Half
Cole Shaffer - Wing
Griffen Palmer - Inside Center
Mike Powell - Outside Center
Steve Fritsch - Wing
Adam Regini - Fullback

BG Alternates

Mario Mockus
Ryan Steinmetz
Ted Kilgore
Alex Cranmer
Rob Oswald
Cody Wilson
Josh Avallone
A.S. Geogehan

Coach: Tony Mazzarella 
Referees
Head Referee - Tevis Vandergriff
AR's - Chris Henshall, Evan Kelly
About
AIC comes off a 6-0 fall in the East Coast Rugby Conference, good enough for their first conference title. Bowling Green comes into Charlotte champions of the Mid American Conference, defeating Western Michigan on Nov. 9 to claim the crown. 
With momentum and a battle-hardened approach forged in tough conference play, these two teams should make for an excellent matchup at the Bowl Series. Both programs enjoy excellent support from their respective universities; expect two well-conditioned squads with plenty of depth to take the field Saturday at 11:15 at the Rugby Athletic Center.