2016 URugby Sevens & ACRC Sevens VA Beach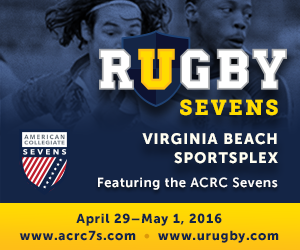 Register now for URugby Sevens Virginia Beach featuring the American Collegiate Rugby Championship Sevens
April 29-May 1, 2016
Register early and save. Divisions are open this year for Men's Collegiate teams.
The entire event will be available for viewing through a Live Feed on URugby and Goff Rugby Report.
To register, select the number of teams you want to enter and add to your cart. Then checkout to complete your registration and enter your team name(s) and divisions. For discounts and pricing incentives please contact Tournament Director, Stephen Siano directly at siano@sevenssports.com or 610-389-4474.