Gamecocks and Wildcats Face Off in SCRC Clash
Saturday September 19, 2015 - 12:00 AM
September 19, 2015

-

1:00PM

@ STWFC Fields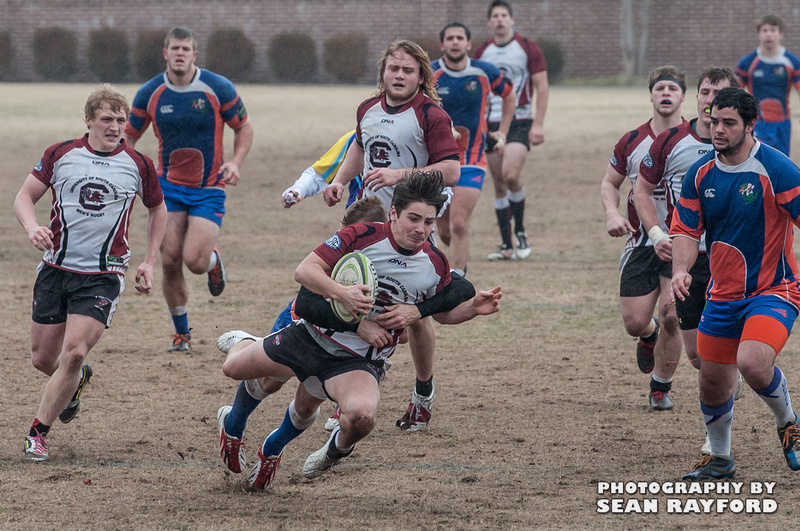 Reigning Southeast Rugby Conference champion South Carolina defeated SCRC rival Kentucky at home by a final score of 66-5. Tim Hamill and Brian Keown led the Gamecocks.
Coming off of back-to-back Southeastern Rugby 15's Championships, Carolina Rugby looks to make it a three-peat this fall with a tough lineup of conference play. With LSU moving to the Red River Conference, the SCRC has seen some division realignments for 2015-16. While Kentucky remains in the East division with South Carolina, Florida has agreed to move to the West division. 
South Carolina defeated Georgia 43-8 last Saturday in the first weekend of conference play. 
Match Results
Kick off: https://instagram.com/p/7vjhdRz
Try scored by UK. Kick after no good. 5-0, Kentucky on top.
Scrum right after kickoff here in Columbia vs University of Kentucky https://instagram.com/p/70f0_XTQBd/ 
The gamecocks answer with a try of their own by sophomore Christian Harrell! Brian Keown with the kick after. 7-5, USC on top
Senior captain Tim Hamill makes a Kentucky player fallover in the open field to take it all the way for a try! Kick after by Keown. 14-5 USC
Sophomore Sean Overa comes in as a blood sub for senior prop Dylan Blackburn.
Aussie James "the whip" Whipper touches it down in the corner for another USC try! Kick attempt by Brian Keown no good. Gamecocks up 19-5
Senior Tim Hamill takes the ball try line to try line again for ANOTHER Gamecock score! Senior Brian Keown makes the kick after. 26-5 USC
Senior Mike Mahon pounds one in to score for USC and end the half! Brian Keown makes the kick after. 33-5 Cocks. Halftime.
Kentucky kicks off to USC to start the second half! Score 33-5
Kick after made by Brian Keown, 40-5 gamecocks
Forwards Mike Mahon, Zach Mullineaux, Ben Mather and more are simply plowing through the Kentucky players. Score stands at 40-5
Tim Hamill grabs a beautiful kick by Brian Keown to run in another try. Keown's kick after is good. 47-5, USC
Brian Keown runs around a scrum with the ball and takes it 20 m for the try! He nails the kick after to make it 54-5 Gamecocks
Senior Thomas "Satchel" Coar runs in another try for USC! Tim makes the kick after. Score is now 61-5, USC
Tim Hamill sheds tackles likes snakes shed skin! He runs one in down the sideline from midfield to score and end the game!! We end at 66-5.