Atlantis Men Take Bowl Title at Rugbytown Sevens
The Atlantis men's select side competed for the first time in the Serevi Rugbytown Sevens at Infinity Park on Glendale, Colo., taking home hardware with a 22-17 defeat of the Collegiate All-Americans in the Bowl Final.
This international sevens rugby tournament brought 17 teams to the RugbyTown USA rugby sports center on Aug. 14-16, competing in 50 matches over three days. Select sides in attendance included all branches of the US military. 
The Atlantis team consisted of a number of club and college players including former Temple All-American Gareth Jones, current Kutztown University star Robert Stortz and Jim Rosato, a standout at Penn State. 
Rugbytown, Elite City Team Sponsored by URugby.
URugby was proud to sponsor the Atlantis men's select side team. URUgby is also sponsoring the Philadelphia Elite City 7s team which includes Atlantis players.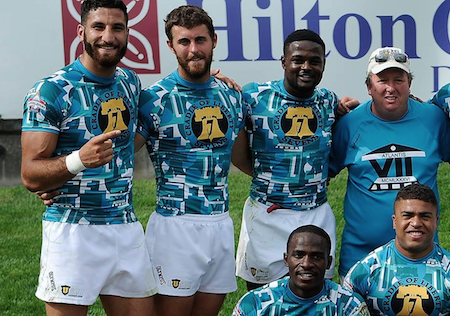 Severi Rugbytown Sevens: Road to Victory
In the Bowl Quarterfinals on Saturday, Atlantis shut out Bermuda 19-0. They defeated Navy 27-12 on Sunday, earning a shot at the Bowl Championship. In the Bowl Final on Sunday afternoon, it was Atlantis 22-17 over the All-Americans.