Boathouse Sports ACRC Player of the Week: AIC's Khabir
Congratulations to American International College's Jihad Khabir for being selected as the Boathouse Sports ACRC Player of the Week due to his outstanding level of play this past weekend.
Khabir scored two tries against East Coast Rugby Conference (ECRC) foe UMass in a key game for the Yellow Jackets. A sophomore fly half from Washington D.C., Khabir is known for his speed and defensive skills and is considered a big factor behind AIC's 10-0 record this fall. Congratulations to Jihad and the entire AIC team for the big win.
Check out Khabir's ball handling and footwork against UMass in the Next Level Rugby video (above) and read a Q&A with AIC Head Coach Josh Macy (below).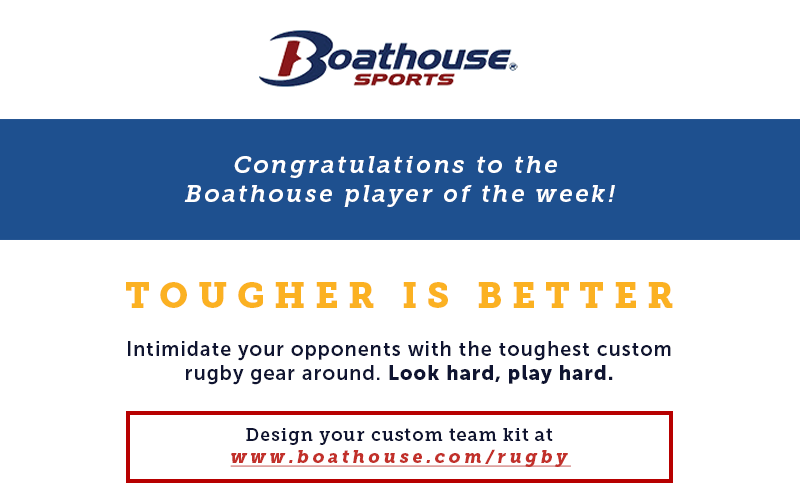 Q and A With AIC Head Coach Josh Macy
We asked Josh Macy why Jihad Khabir should be chosen as Boathouse Sports Player of the Week. He gave us a rundown of his skills and unique contribution to this winning team. 
Q: Where is Jihad from and what's his rugby background (if any)?
A: Washington DC. He played fly half for Perry Street Pride, a storied high school program made up of predominantly African American players. 
Q: What was it about Jihad's play this week that stood out?
A: Jihad scored two tries and had a sound defensive effort as well. He was a threat for 80 minutes and scored a counter attack try from about 65m out that was one of the better solo efforts we'll see this year. 
Q: Tell me what makes Jihad such a great player?
A: Jihad is an opportunistic, go forward fly half who seeks to get his team involved. He can pressure almost any part of the field at any time with pass or kick. Once the defense loses its shape, that's when he'll use his own athleticism to bring that attacking spark he's known for. 
Q: How has Jihad helped make your successful fall season a reality?
A: Jihad's helped us have a successful season through his own dedication to personal improvement. Extra time on the pitch and watching film proves to his team mates that he wants to be the best. Though only a sophomore, he's growing quickly and becoming a better team leader each week. 
Q: How does Jihad demonstrate AIC's style of play or unique approach to the game?
A: Jihad carries himself with confidence. Something we hope for all of our players. He knows he has what it takes to be successful, and each game is an opportunity to prove that. Jihad is not your typical fly half, and AIC is not a typical team. 
Q: What can we expect from Jihad from here on out as you look to close out the ECRC Conference season against Boston College this weekend and head to the ACRC Bowl Series?
A: Our back line has been working hard to put together the complete package. I think we'll see it these next two matches. It's going to be great. Jihad is obviously a huge part of that and he knows it's his responsibility to put his team mates in a position to succeed.