Boathouse Sports ACRC Player of the Week: KU's DeColli
Congratulations to the Kutztown University's Andrew DeColli for being selected as the first ever Boathouse Sports ACRC Player of the Week due to his outstanding play against Army this past weekend.
DeColli, a junior prop from Doylestown, PA, has earned the respect of teammates and foes alike with his skill, determination and balance on the pitch. He was a big factor over the weekend in Kutztown's first-ever defeat of Army. Making the victory sweeter was that it came at home, before a big Homecoming crowd that included DeColli's family. Congratulations to Andrew and the entire Kutztown team for the big win.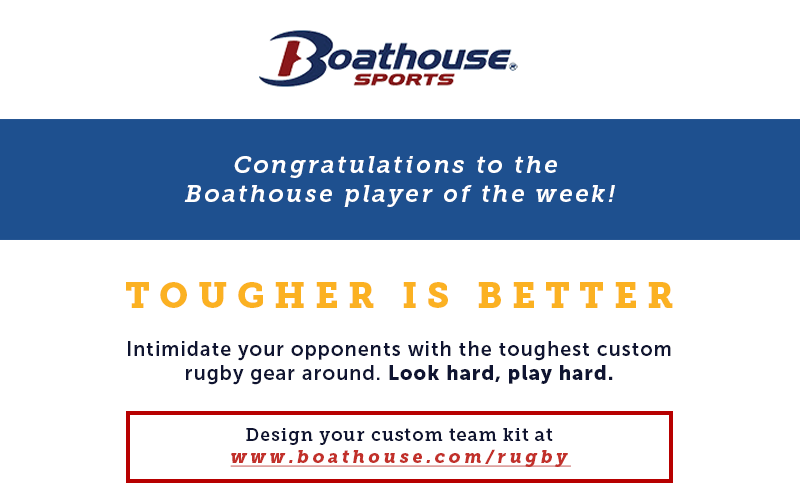 Q and A With Kutztown Head Coach Gregg Jones
We asked Gregg Jones why Andrew should be chosen as Boathouse Sports Player of the Week. He gave us a summary of Andrew's approach and what it says about the culture of Kutztown rugby. 
Q: What was it about Andrew's play this week that stood out?
A: Andrew Decolli stood out in the match against Army due to his "Go Forward" tenacity and superb fitness of a big man, playing tight head prop. Andrew stands 5'11" and weights 250 lbs. 
Q: Tell me what makes Andrew such a great player.
A: Andrew is so mobile and powerful for such a big man. He is often making line breaks and scoring trys from 20 yards out. On top of that he is,in my opinion, the best tight head scrummaging prop in the Rugby East Conference. 
Q: I was surprised to hear that you never defeated Army. After all this time at the helm, what does the win mean to you?
A: We have only begun to play Army since the Rugby East Conference was formed. So we have only had at them a couple of times. Last fall( 2014) they scored in the last two minutes, to come from behind and beat KU. In another game, they won by four or five points in a seesaw affair. So this was a very gratifying win considering we always played them so close. 
They are the only team, since the Rugby East Conference was formed, to defeat KU. Army until they lost to Iona two weeks ago, had never lost to a Rugby East Team and Kutztown has never lost to a Rugby East Team, except Army. This win was rewarding and over due as far as our program is concerned.
Q: How did Andrew help make the win a reality?
A: Andrew was powerful in the set pieces and helped to establish our aggressive forward presence. He had two excellent line breaks from off-loads in the forward movements, not to mention his stellar play 
Q: What can we expect from Andrew from here on out as you look to with Rugby East and then go on to play Big Ten power Indiana at the ACRC Bowl Series?
A: I think you can see Andrew receiving more awards and possible select side status as he continues to excel in the front row. 
Read more about Kutztown and the "secret" to their success on the URUgby team profile page »