Boathouse Sports ACRC Player of the Week: Syracuse's Hodgkinson
Congratulations to Syracuse University's Alex Hodgkinson for being selected as the Boathouse Sports ACRC Player of the Week due to his outstanding level of play this past weekend. URugby and Boathouse Sports honor a collegiate player each week from now until the end of the fall season.
A senior flyhalf from London, England, Hodgkinson's ability to create space, assure a territorial advantage and keep a cool head under pressure makes him a lynchpin of the team's offense.
Read a Q&A with Syracuse Head Coach Bob Wilson (below).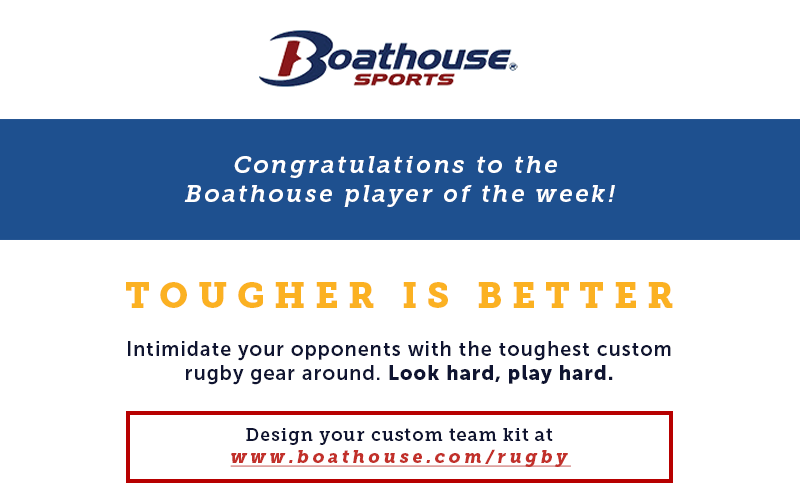 Q and A With Syracuse Head Coach Bob Wilson
We asked Bob Wilson why Alex Hodgkinson should be chosen as Boathouse Sports Player of the Week.
Q: What was it about Alex's play this week that stood out?
A: This week particularly he put his body on the line with several big hits and recovery tackles on some of Stony Brook's many powerful runners.
Q: Tell me what makes Alex such a great team asset?
A: Behind a young but much improved pack Hodgkinson created space, put runners through gaps, kicked Syracuse into position and assured a territorial advantage. He also slotted two conversions and the final decisive 78th minute penalty. Alex kept a cool head and encouraged the younger players when Syracuse was under assault.
Q: What is his rugby background?
A: Two professional preparation programs have supported Hodgkinson's development. As part of the Wasps Academy program he led Wasps 'A' to a league title. He has had two years in the S.U. Football Program, which has provided enormous benefits in training and physical development. So we now see a tremendous combination of technical and physical abilities.
Q: What made the win against Stony Brook extra special?
A: Stony Brook are very well coached and have been a dominant team in New York State and the East Coast for several seasons. They have not lost a league game in two seasons and won their ACRC Bowl Game last year. Syracuse have not been able to get too close previously.
Q: With the Empire Conference Championship under Syracuse's belt, what can we expect from Alex heading to the ACRC Bowl Series and your match with Notre Dame College?
A: We look forward to outstanding tactical kicking, holding the back row in place and picking out the appropriate runners short or long.