Southampton Rangers Football Club and Horseshoe Bay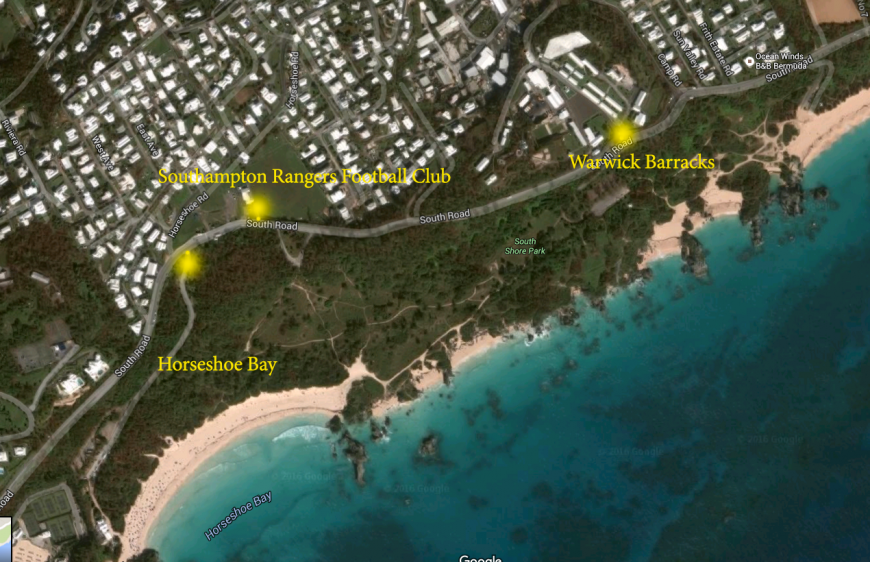 Southampton Rangers Sports Club is a 5-10 minute walk from Warwick Camp Barracks and has been reserved for teams to train ahead of the Bermuda Intl 7s.
The sports club has a soccer and cricket pitch. The field is not marked for rugby and does not have posts, but the surface is firm and flat. It's an excellent pitch to stretch your legs and get a few things done.
The Southampton Rangers Sports Club pitch is across South Shore Road from Horseshoe Bay.
Warwick Camp is the housing location for the 2016 Ariel Re Bermuda 7s, 2017 Ariel Re Bermuda 7s, 2018 Ariel Re Bermuda Intl 7s, 2019 Ariel Re Bermuda Intl 7s, and the 2023 Bermuda Intl 7s to be played at the Bermuda National Stadium.
2023 Meals at the Regiment
07:30a - 08:30a Breakfast Warwick Camp
12:00n - 01:15p Lunch Warwick Camp
06:00p - 07:15p Dinner Warwick Camp
2023 Training Schedule
Rangers Training 9:00am - 4:00pm daily
Tuesday, Mar 14th, 2023
Available: 9:00a - 4:00p Rangers Sports Club
09:00a - 10:30a Colgate Women (12) Rangers Sports Club
10:30a - 12:00n Harvard Men (16) Rangers Sports Club
12:00p ________ (#) Rangers Sports Club
01:00p - 02:30 Vanderbilt Men (7) Rangers Sports Club
02:30p - 04:00p Colgate Women (12) Rangers Sports Club
Wednesday, Mar 15th, 2023
Available: 9:00a - 4:00p Rangers Sports Club
09:00a - 10:30a Colgate Women (12) Rangers Sports Club
10:30a - 12:00n Harvard Men (16) Rangers Sports Club
12:00n - 01:00p ________ (#) Rangers Sports Club
01:00p - 02:30 Vanderbilt Men (7) Rangers Sports Club
02:30p - 04:00p Colgate Women (12) Rangers Sports Club
Thursday, Mar 16th, 2023
Available: 9:00a - 4:00p Rangers Sports Club
09:00a - 10:00a Colgate Women (12) Rangers Sports Club
10:00a - 11:00a Notre Dame Men (12) Rangers Sports Club
11:00a - 12:00n Stony Brook Men (12) Rangers Sports Club
12:00n - 01:00p Rowan Women (12) Rangers Sports Club
12:45p - 01:45p UConn Men (12) Rangers Sports Club
01:15p - 02:15p Cornell Men (12) Rangers Sports Club
01:45p - 02:45p Maryland Men (12) Rangers Sports Club
02:15p - 03:15p Stony Brook Men (12) Rangers Sports Club
02:45p - 03:45p Mystic Men (12) Rangers Sports Club
03:00p - 04:00p Brown Men (12) Rangers Sports Club
The Beach
Afternoon Kutztown Men (#) The Beach
Afternoon Rowan Men (#) The Beach
Friday, Mar 17th, 2023
Available: 9:00a - 2:00p Rangers Sports Club
 9:00a - 10:00a Mystic Men () Rangers Sports Club
10:00a - 11:00a Brown Men (12) Rangers Sports Club
11:00a - 12:00n Maryland Men (12) Rangers Sports Club
12:30p - 01:30 Vanderbilt Men (14) Rangers Sports Club
12:00n - 01:00p Harvard Men (20) Rangers Sports Club
4:30p 7s Tournament (until 9:30p) National Stadium
Saturday, Mar 18th, 2023
11:30a 7s Tournament ​(until 6:00p) National Stadium