Bermuda Rugby Spotlighted in the Guardian
Former WWE wrestler and Smackdown champion John Layfield has stepped off the mat and onto the rugby pitch. In a partnership between the Bermuda Rugby Football Union and The Family Centre Bermuda, Layfield founded the Beyond Rugby Bermuda program, bringing after school homework academy structure, rugby training and family support services to the island's disadvantaged communities.
Since 2010, Layfield has been working to reduce the high-school dropout rate for black Bermudan males through sports. In an interview with the Guardian, Layfield explains his attraction to rugby and how it has helped children from Bermuda's impoverished areas.
"I had seen the ethos of rugby and I was very much an admirer," Layfield said. "...It's so simple, it's easy to understand, you can play five on five or 15 on 15. I would be so much better coaching American football, but you need 22 on each side and all the equipment and everything. With rugby you just need a mouthpiece and grass."
Layfield believes rugby's often brutal nature would be best-suited to help keep young Bermudans in school and away from gangs, unlike other popular island sports like soccer or cricket. "We have issues with gangs and with drugs in Bermuda but we want to attract the most hardcore kids. We want the gang leaders, because they're going to be leaders either in a gang or on the rugby pitch. And we've had a lot of success."
Despite the everyday challenges Bermuda youth face, the Beyond Rugby Bermuda program works to give youth a chance to choose positive lifestyles, resist antisocial behavior and achieve academic goals. 
Layfield further explained saying, "We have super-tough kids who grew up in super-tough environments and they enjoy getting out there and knocking each other around and having a piece of pizza and going home."
But its more than that, students in the BRB program also learn who they are, what they want in life and how to develop plans for their future after leaving the program.
Read the full article from The Guardian »
Bermuda All Stars at the 2018 Ariel Re Bermuda Intl 7s
The Bermuda Men's Ariel Re All Stars (formally Bermuda Collegians) will, once again, face off against colligate teams across the USA, Canada and Bermuda as part of the 2018 Ariel Re Bermuda Intl 7s. 
In past years, the Bermuda All Stars surprised the US-based teams with their talent, quickness and rugby skills.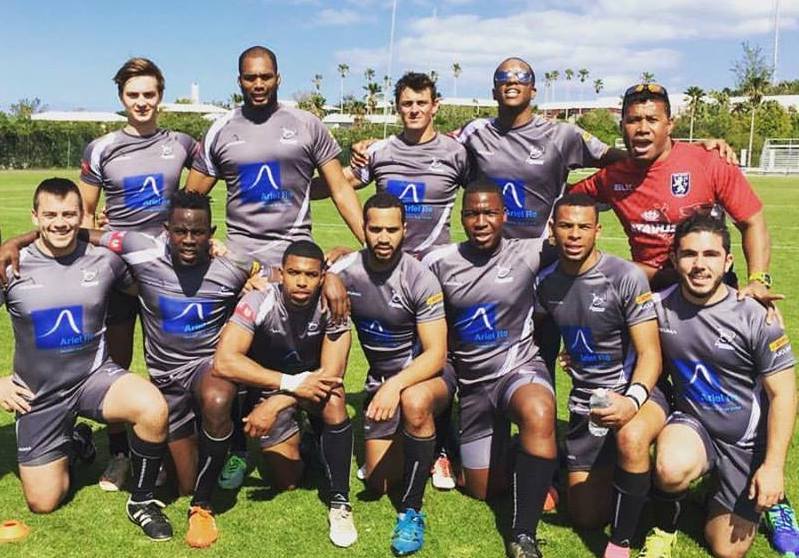 2016 Third Place Finish for Bermuda All Stars
In 2016, after making the semis, Bermuda fell just short to eventual runner-up Stony Brook University. In the third place match, Bermuda defeated the powerful Kutztown University, one of the top collegiate sevens teams in all of the United States winning by a score of 15-10.
Watch the 2016 Bermuda vs Kutztown third place match »
2017 Second Place Bermuda Makes the Finals
In 2017, Bermuda faced off against St. Joseph's of Philadelphia and captured a thrilling 17-15 victory. In the finals, Kutztown took revenge on Bermuda for their surprise 3rd place victory defeating Bermuda 33-5.
Watch the 2017 semi-final Bermuda vs St. Joes match »
Tournament Expands in 2018
As the tournament welcomes women's team for their first year in 2018, the Bermuda Women's Collegiate All Stars will make their first appearance at the Bermuda National Sports Centre.
Players on both the men and women's Bermuda All Stars' teams have come out of the Beyond Rugby program; and many owe their success to the youth program.
Learn more about the 2018 Ariel Re Bermuda Intl 7s »
**IMAGE: John Layfield (right) with an undefeated Beyond Rugby Bermuda team.