Rugby Sevens and the US: Past, Present and Future
Below is an article written by Emil Signes for URugby. The article appeared in URugby's official Surfside Sevens 10th anniversary program on July 20th 2013.
Rugby Sevens: Only a Festival Game
When the United States took steps in 1985 to develop a national program with the first-ever All-Star Sevens, most saw sevens as only a "festival game" not worthy of being taken seriously.  In 1986, Rugby Magazine asked me to write a series of articles on sevens.  The first one was entitled: "Sevens: Only a Festival Game?"  In it I recounted how, despite the establishment of both club and All-Star Sevens championships, we were urged not to yield to the temptation of taking sevens seriously.  "At a recent meeting at which US Sevens selections were being discussed," I wrote in February 1986, "the comment was made that sevens, after all, is only a 'festival game,' and we shouldn't let it get out of proportion."
I admitted that — historically — sevens' position in rugby's hierarchy was certainly insignificant (though unquestionably festive), but argued that "the growing popularity of sevens across the country, and the enthusiasm with which players are responding to major tournaments and select-side events such as the ITT [All-Star] Sevens, and the tremendous response of spectators to a wide-open game that generally features about five tries in 14 minutes, may be saying something to us — if only we'd listen."
"What event is more suited to TV sports than Sevens?" I continued. "In a 90-minute show we would likely see more than 25 tries.
"Why not stop looking at sevens as just a 'bastard child' of 15s? …
"Think about it. Only a festival game? Today perhaps the answer is yes, but tomorrow…?" I concluded.
Things have been changing since 1986.
Rugby World Cup Sevens (RWC7s) and the IRB World Series of Sevens
The progress of sevens, in the face of many obstacles, has been inexorable throughout the world. We got our first RWC7s in 1993 (for the men) and — where wise choices were made about location (Hong Kong, Argentina, Dubai, not Russia!) — we got packed stands.
In 1999, again for the men, the IRB World Series of Sevens began. Overall, from 1999 to 2013, the US's collective world standing is 13th place, behind, in order, New Zealand, Fiji, South Africa, England, Samoa, Australia, Argentina, France, Wales, Kenya, Scotland, Canada, USA, Tonga, Portugal and Spain. That includes, however, the several years before Al Caravelli, who came on board as the US Sevens Head Coach in 2006, bringing the same 15s level of player intensity to sevens.
In the six IRB World Series of Sevens between 2008 and 2013, the US Men's Sevens team finished consistently just out of the top ten, with a top finish of 10th in the 2009 – 2010 series. The US finished 11th in four of the years and 12th after the 2010 – 2011 campaign.
Though the men's team continued to play well losing extremely close pool matches to New Zealand and Canada, a loss to Argentina in the Plate Quarterfinals put us in 13th place in the recently completed 2013 RWC7s.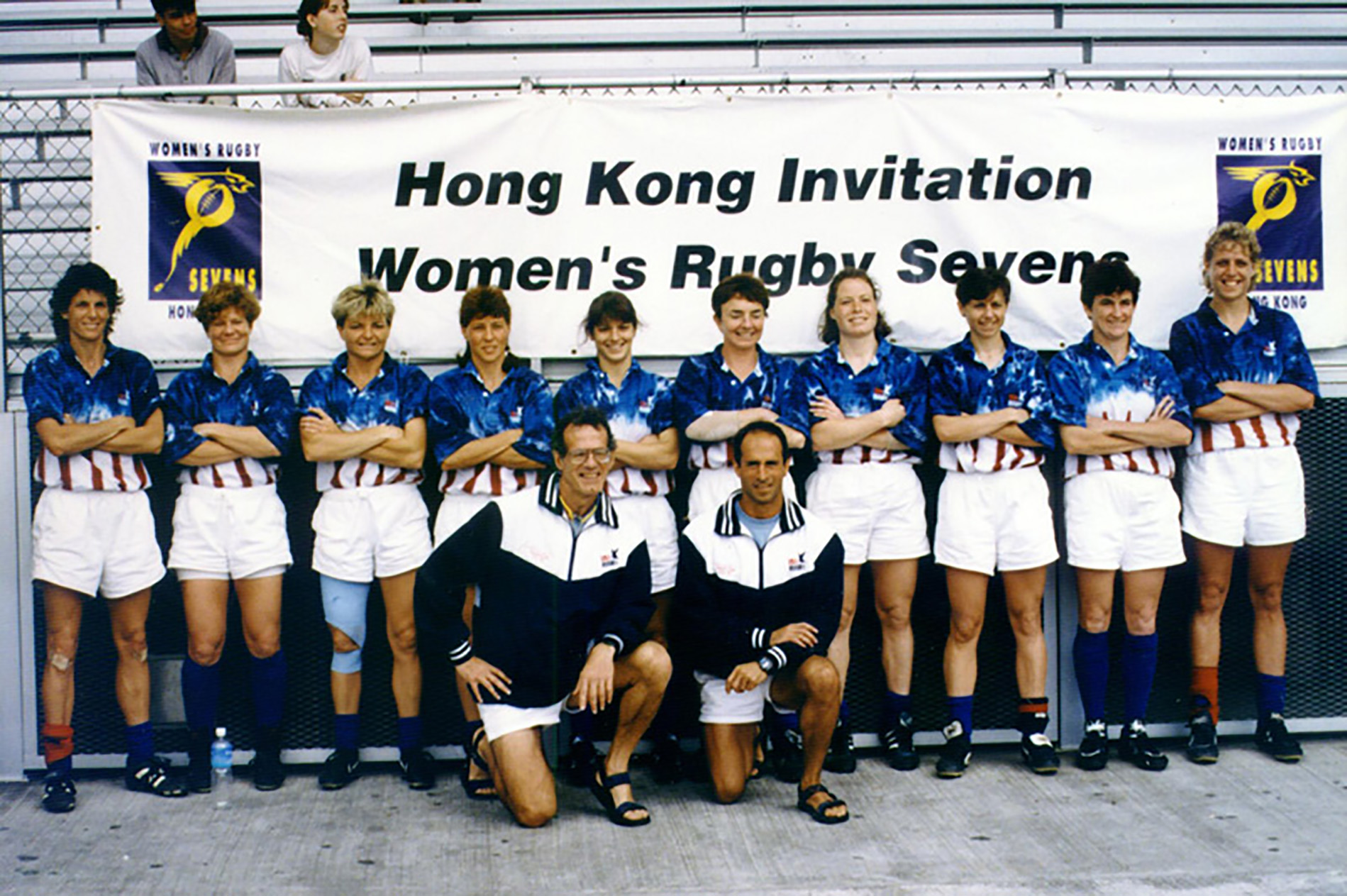 Bring on the USA Women
The first international women's sevens tournament took place in Hong Kong in 1997, and its influence has been tremendous (and as an aside, I'm very proud to have been a driving force for that tournament and for the early days of international women's sevens.)
Jamie Scott, a representative of the IRB, came to the banquet at the 2002 Hong Kong Women's Sevens, and noted that the big stumbling block to rugby's participation in the Olympics was that there was no women's rugby involved. Pointing out that Hong Kong had started the ball rolling for women's international sevens, Scott noted that the RWC7s had decided to include a women's bracket in 2005, hopefully leading to inclusion in the Olympics.
The entire process was delayed by 4 years but it happened. The US women came in 3rd in that first RWC7s in 2009 and following a 4th place finish in the World Series of Women's Sevens in 2012-13, repeated with a Bronze in the 2013 RWC7s.
Rugby and the Olympics
I have in my files articles going back to 1984, predicting that rugby would be in the Olympics as early as 1988 in Seoul. In the early years, sevens was never mentioned, nor was the inclusion of a women's event. It wasn't until sevens was mentioned, and women's rugby was added at the 2009 RWC7s in Dubai, in front of an IOC selection committee, that we got the nod.
Olympic Implications for the US
What will this mean for sevens in the United States? For a start, our men begin — compared to the rest of the world — at a higher level than we are in 15s. Typically the men are in 15th to 20th range in 15s ranking, compared to 10th to 13th in sevens.
Ironically, however, that might not help us at all. Rather than 24 teams, like this year's men's RWC7s, or even 20 teams like the 15s World Cup, or 16, like this year's women's RWC7s, the Olympics will feature only 12 national teams.
Olympic qualifying will happen in three stages for the men. Stage one includes the top four teams on the 2014-15 IRB Sevens Series. Stage two includes regional qualifying tournaments hosted by each of the six IRB regions hosting between June and September 2015. The six regions are Africa, Asia, Oceania, Europe, South America and North America/Caribbean. Lastly, there will be a repêchage tournament during the 2016 Hong Kong Sevens to determine the final places.
At this year's RWC7s, our North American qualifying rival Canada won the Plate Final over Samoa after winning a nail-biter over the US 15-14 in pool play. So the US men will have to work very hard and play very well to even qualify for the Olympics.
In the case of the women, we look pretty safely on the road to qualifying, and should have Olympic Gold in mind. We'll have to play very well, of course, to get any kind of medal.
So what will this increased importance of sevens mean to rugby in the US?
Elite Level
Well, we've all been saying this for years (yawn), but ­— with the great athletes we have in the US we should be able to put together a team to compete with anyone in the world. As a result of rugby being in the Olympics, we've now gotten a person into the sport — Carlin Isles — who is regularly, referred to in international rugby broadcasts as "the fastest man in world rugby."  We'll get more. In women's rugby as well, the discovery process is hitting fever pitch and we should be looking forward to finding world-class athletes for this program as well.
Given that raw athleticism means more in sevens than 15s, and complex skills mean less, we should be able to find the athletes to fast track and compete at the top level very quickly. Carlin Isles is just one person. We need more like him.
There is a program in place to find these cross-over athletes, for both the men and the women. Both programs need to work fast if they are to find them in time to make an impact in 2016. The programs must continue to develop for the future, if we are to maintain ourselves as a sevens power.
In the short term, we need to fast track athletes directly from their current sport to sevens. In the long term, however, we need to get some of our top athletes directly into sevens at the grassroots levels. What we do now — a few scattered sevens tournaments throughout the year plus one national championship event, a process without great participation — is not enough. We need more high-level competitive sevens.
Club and College Level Sevens
Most club sevens takes place during the summer when a lot of clubs are taking a break. I understand, it makes for a brutal year with little rest. Nevertheless, top players with elite sevens potential should be encouraged to participate in sevens, whether it's with their own 15s club or with a speciality sevens club. Eventually, if sevens continues to succeed, we may find a better place for it in the club calendar.
In the past, colleges have virtually been shut out of sevens by the fact that it was a summer sport, i.e. out of the college calendar. With the 2009 announcement that sevens would be an Olympic sport, college rugby has been answering the call. The Collegiate Rugby Championships (CRC) and USA Rugby championships in 2011 started the ball rolling. Now there seems to be a strong feeling that one of the two college seasons — Fall or Spring — will become primarily a sevens season. As expected, which season it will be is a subject largely guided by geo-politics.
Grassroots Rugby
I have argued for 40 years that the way to get athletes to play rugby is to introduce them to rugby through sevens. With a small number of notable exceptions like Carlin Isles, this is still not happening, but a specific program to do this, and a college sevens season, might be ways to get those cross-over athletes.
Youth and School
Some of the athleticism seen at the school levels is very encouraging. When I saw Pride (formerly Hyde) of DC and New York Youth play in May of this year, there was a lot of athleticism on display. The youth and teen programs established by Morris Rugby and their summer NJ Blaze Sevens teams are making a mark. Let's have more of it.
Future of Sevens
Will sevens take over from 15s in importance? It certainly doesn't seem to be happening in the major rugby playing countries, although they are all (except Ireland) giving sevens more and more importance with each passing year.
Will sevens take over from 15s in importance in the US?  I hope not, and I don't think so. But I do hope we continue to see sevens' importance increase. And as long as 15-a-side remains a vital sport at all levels, that's a good thing.
Will some players play just 15s? Certainly. The truism that 15s is a sport for all body types remains. The game of sevens is certainly more restrictive. Will some players play just sevens? Probably. Will some teams play just 15s? Certainly. Will some teams play just sevens? Certainly, if we include speciality sevens teams comprised of players that play 15s for different clubs. Will some sevens teams comprise players that do not play 15s? That remains to be seen…
For the US, now three years away from the Olympics, we are starting to see cross-over athletes. From what I can see, however, we need more and we need them quickly. In addition, the development of a formal sevens structure in the country needs to be addressed.
Only a Festival Game?
Sevens: a festival game? Absolutely. Sevens makes for a great festival. Long live festivities! Summer tournaments like URugby's Surfside Sevens prove that summer festival sevens is alive and well. But … Only a festival game? No, it's too good a sport to be only a festival game.
-Emil Signes