Tour the Crystal Caves of Bermuda
Great for any adventurer looking for a stunning sight, the Crystal Caves of Bermuda are a once-in-a-lifetime experience that reveals Earth's hidden beauty.
Visit the two adjacent Crystal and Fantasy Caves, for a view of soaring stalagmites and natural limestone formations. Afterwards, shop for souvenirs at the gift shop and snack on Bermudian cuisine at their restaurant.
Adult combination tickets to see both caves are $30, and children (12 and younger) are $12 each. Tickets must be bought in person.
The Crystal Cave
When you descend down the walkway into Crystal Cave, you enter an immersive journey with Earth's natural beauty. Gaze at the pathway of floating pontoons that line the crystal clear underground lake, and enjoy the illusion that the spectacular stone formations are inches beneath the water's surface.
Amazingly, the lake is so clear it tricks your eye into believing the formations are closer than they are, rather than being more than 50 feet beneath the surface. Don't forget to look up and check out the pristine white stalactites covered with crystallized soda straws that are affixed to the roof of the cave! It's a sight you won't forget.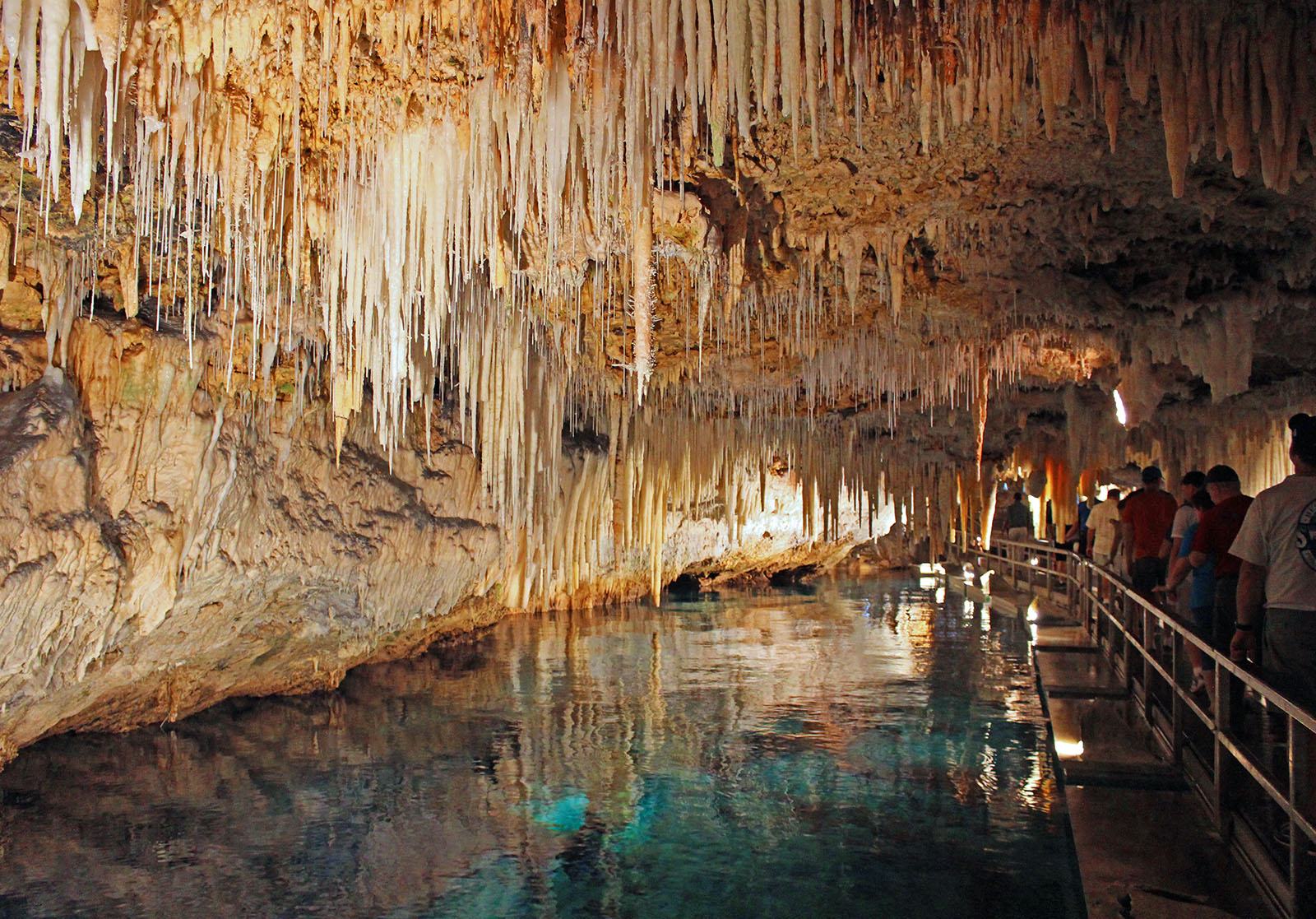 The Fantasy Cave
Fantasy Cave is a virtual jewel box of stunning formations, with walls covered in calcite mineral deposits that nature transformed to resemble majestic waterfalls frozen in time.
With a state-of-the-art lighting system, visitors can see every intricate detail in the Fantasy Cave, from the reflections of the clear pool water and multiple passageways connecting the caves with the ocean.
Shop & Dine
After you've fully explored both the Crystal and Fantasy Caves, visit the Fiddlesticks gift shop nearby to commemorate your visit to Bermuda with souvenirs. If you're craving a snack, Cafe Ole gives you the opportunity to try Bermudian cuisine and relax under shaded tables.