2016 Bowl Series: Binghamton 52 vs Loyola Univ MD 27
Sunday November 20, 2016 - 2:00 PM
Last match of the weekend @UBowlSeries features traveling Loyola University Maryland against fairly local Binghamton University side from the Empire Conference. Loyola is a small college that dominated the Potomac Rugby Conference in 2016.
The game started out well for Binghamton, which sent prop Nick Coppola surging through the line for a try, and then added a conversion and a penalty from flyhalf Brandon Healy for a 10-0 lead.
But Loyola, paced by some big runners, including power-running No. 8 James Cahill and shifty center Patrick Frick, stormed back and made a game of it. Flyhalf Danny Giannascoli showed some good vision, Loyola's first try came courtesy of a muffed Binghamton lineout and a snappy cleanup at the back. 
Loyola dominated field position for a good portion of the rest of the first half, helped along by a few errant kicks. 
"It was pretty hard playing hard against the wind," said Binghamton's Healy, who missed touch a couple of times. "I was trying to get it out and down the field and I either couldn't get it down the field card enough, or couldn't get it to touch. And we started realizing we had to play with the ball more and use a couple of forward plays to set up plays on the outside to get out of our own half."
And it worked. Using the forwards to bust up the middle, Binghamton also got good running from center Greg Lenane, and then Healy popped a pass to center Matt Richards who raced in under the posts.
Loyola replied with some pressure and an eightman pick from Cahill. But they failed to press their advantage when an intercepted pass put them right back on the Binghamton line, they couldn't get that go-ahead score.
With the wind in the second half, Binghamton started to roll. Coppolla, a thick-legged prop with excellent passing and running skills. was hugely influential, while Healy started to have the time to read the game and set up his teammates. Lenane scored multiple tries, and Binghamton won 52-27.
  -- Alex Goff Read more on Goff Rugby Report »
Minute by Minute
80 min:
Match Highlight
Final score: Binghamton (52) v Loyola Maryland (27)
November 20, 2016

-

2:00PM

@ Mazzella Field, Iona College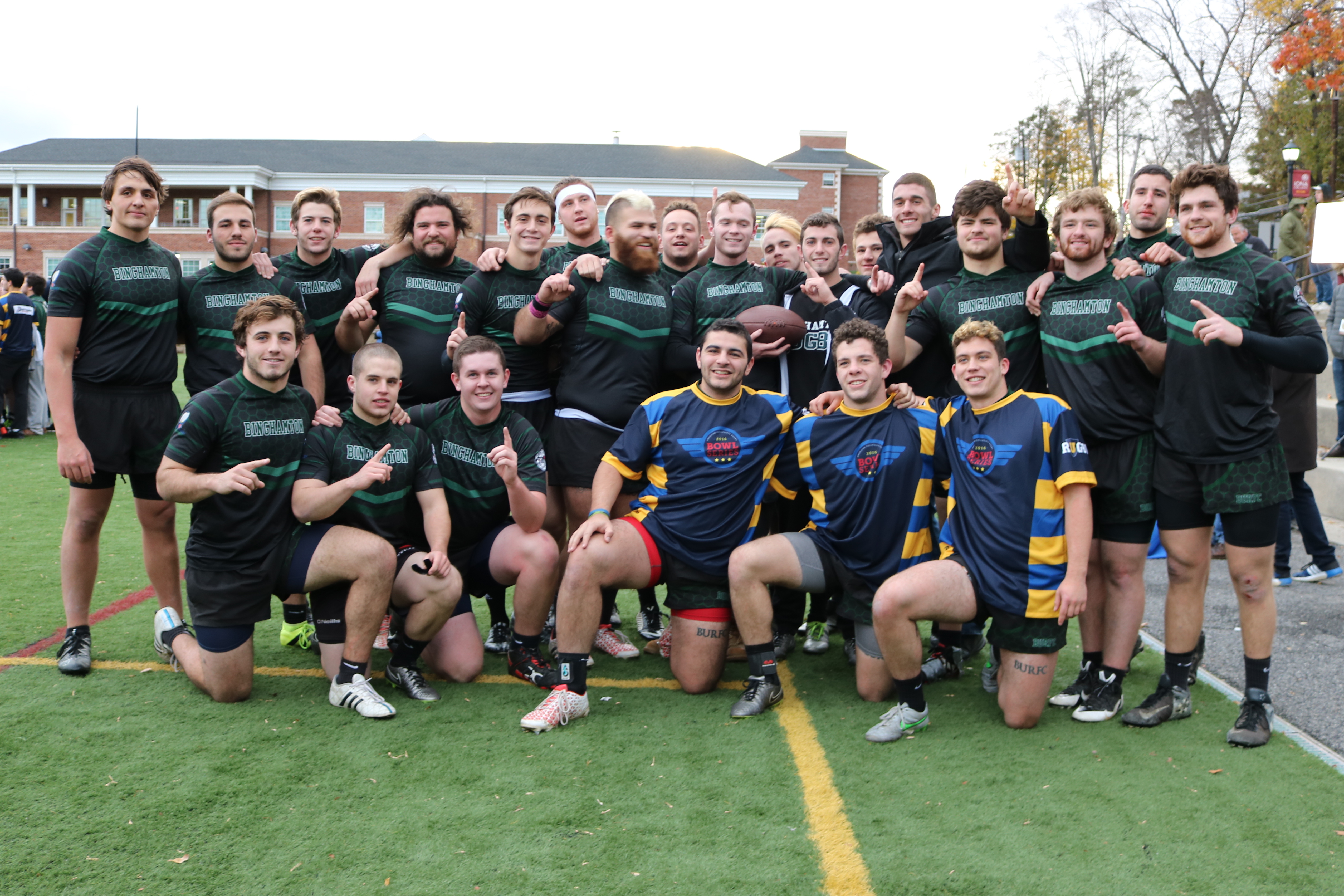 We'll remember this match as two conference champions close out the 2016 Bowl Series. 
2016 Bowl Series 
Nov 19-20 Mazzella Field, New Rochelle NY