Bonnies Win Again 36-7 over UB
Saturday November 7, 2015 - 12:00 AM
November 7, 2015

-

12:00PM

@ Marra Athletics Fields Complex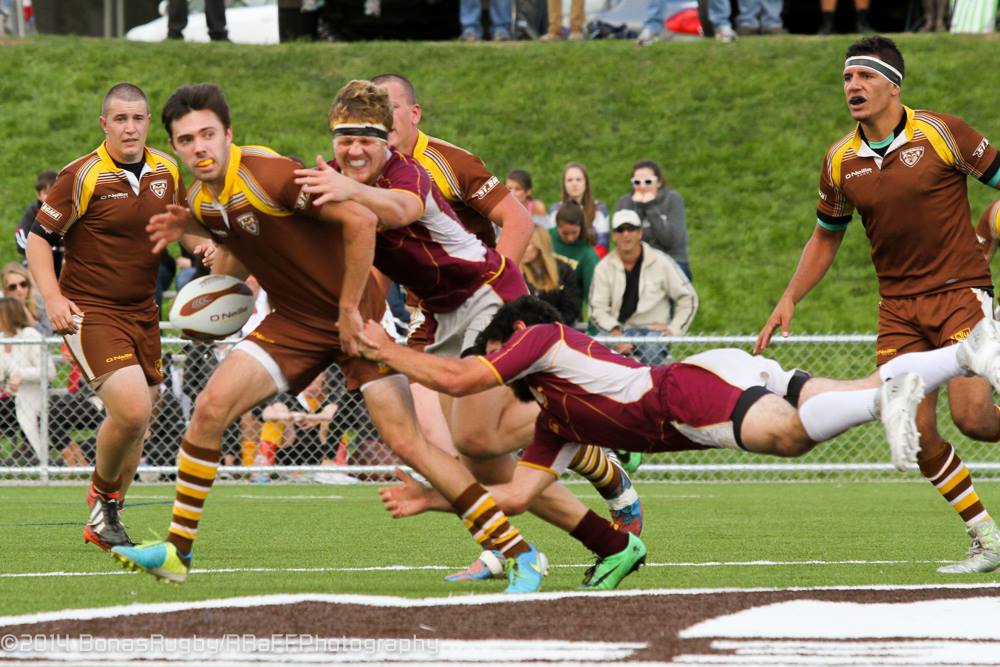 St. Bonaventure @SBURugby took a 12-0 lead into the half before pouring it on to win 36-7 over the University at Buffalo. Lots of local alumni, friends, and family come out to support the Bonnies at home.
@SBURugby Tweets
The men warm up as Bona prepares to take on UB. #sburfc 
It's 12:00 and the boys are underway! UB kicks to Bona
Bonaventure and UB fighting back and forth but Bona failing to get the ball out of their half.
John Sullivan steams through UBs defense out of the Bonaventure half but a knock on leads to a scrum to UB
Here comes the hot stepper Jordan "the caveman" Farrant as he cuts back inside on a great run and dishes it to Dan Dillon who puts it away!
Failed conversion Bonaventure leads 5-0!
UB knocking on Bonas door but solid Bonaventure defense forces the turnover!
John Sullivan with a great effort runs the ball down to UBs try line, a knock on gives UB a 5-meter scrum
UB forced to kick it out, line out to Bonas!
John Sullivan and Kyle "pot roast" Ciquera looking like a demolition team as they punch through UBs defense and Ciquera touches it down!
Ryan McGovern with a sophisticated kick scores the conversion!
Bonaventure 12 UB 0 at the half
That concludes the first half of today's match, Bonaventure leads by 12. An exciting 2nd half to begin shortly! #SBU SBURFC
The 2nd half has begun! Bona kicks to UB and explosive defense forces a line out to Bonas
Bonas showing some life as Luis "Swaggy-Lu" punches in 2 quick tries. That's correct we said 2 TRIES!!!!!
One Conversion of the two converted by Ryan McGovern! Bonas leads by 24!
Christian Artuso playing like a mad man and forces a great turnover!
Scratch that Artuso looks like a hungry lion amongst gazelles as he takes off down the field and touches it down for a try!
McGovern punches in the conversion! Bonaventure leads 31-0
UB makes a great effort and puts it away in the corner. Followed by a spectacular conversion kick. Bona still leads 31-7
Daniel "look at that beard" Dillon gets feisty as he receives a yellow card for obstruction
Dillon's hard fought play saves a try and leads to a Bona turnover
Jesus Robles turns water into wine with a miraculous juke through the defense and takes off for a great try!
Phil Jackling misses his only conversion ever
And that concludes today's match! Great outstanding play by all the Bonnies!
Bonnie's win in a great match to UB 36-7
Thanks to everyone who came out and supported. Go Bonnies! #sburfc
Notable shoutouts to Paul Schulick, Jordan Farrant, Daniel Dillon, Phil Jackling, and Nick Lacolla for a great four years of Bona Rugby!
Marra Athletics Fields Complex