JMU (3) Defeated Rutgers (6) 20-8 in Keystone Playoff Action
Saturday November 7, 2015 - 12:00 AM
November 7, 2015

-

1:00PM

@ James Madison University East Campus Fields Complex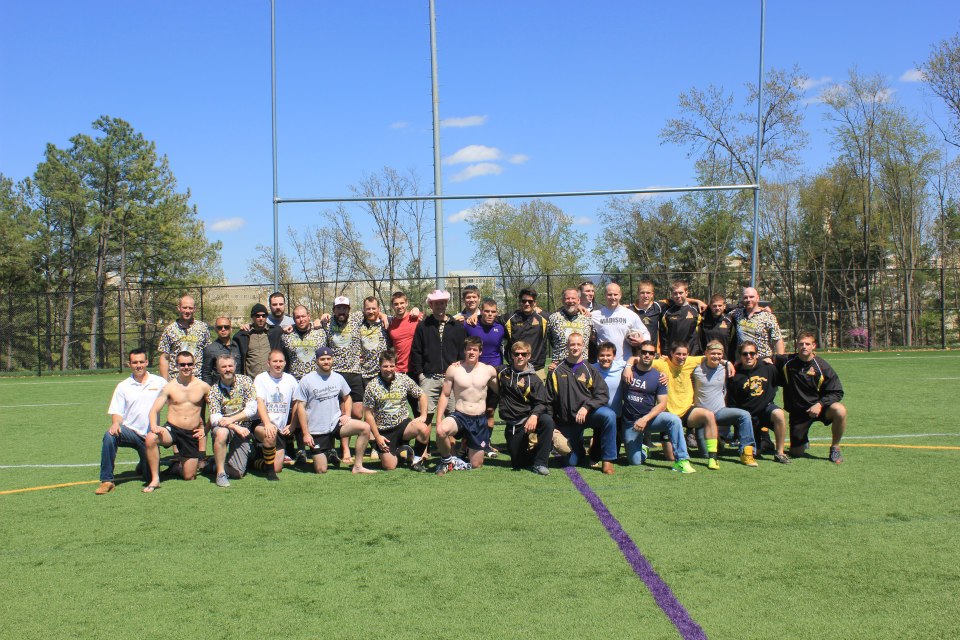 Chris Marcelin scored, Matt Narzakil added two tries and Chase Key scored the final one as JMU defeated Rutgers by a final score of 20-8. James Madison exploited Rutger's D with speed on the outside scoring all of their tries in the corners.
The JMU forwards dominated in the contest giving JMU the majority of possession. The entire James Madison team played strong defense. Rutgers looked to capitalize on the pick and roll. JMU used good line speed to take Rutgers down behind the gain line. 
We actually did not play as well as I would have liked in the backs making too many bad passes and errors but when we did click (which was only a few occasion)  I would say we it was a well played game where we had the majority of possession but did not execute and so it was even and JMU's head coach Mark Lambourne felt, "it was anybody's game until we put it away in the last 15 minutes."
Rutgers Twitter Feed
The Black Death has arrived in James Madison!
Here we go! Rutgers sets up to receive the opening kickoff.
10 minutes down and we're still scoreless here in JMU.
Try Rutgers! Center Mike Hogan takes a nice offload to the corner for the first try of the game. Conversion no good. 
20 minutes down. Rutgers remains on top 5-0.
Try JMU's Chris Marcelin. Conversion no good. Rutgers - 5 JMU - 5
30 minutes down. The game is a knotted up at 5.
Try JMU's Matt Narzakil . Conversion no good. Rutgers - 5 JMU - 10
We've hit the halfway point here in JMU. Rutgers - 5 JMU - 10
With 50 minutes played, JMU still leads 10-5.
60 minutes played. JMU still leads by 5.
Try JMU's Matt Narzakil. Conversion no good. Rutgers - 5 JMU - 15
Fullback Keith Wallace nails a penalty kick to narrow the gap. Rutgers - 8 JMU - 15
Try JMU's Chase Key. Conversion no good. Rutgers - 8 JMU - 20
10 minutes left to play. JMU leads 20-8.
That's full time. Final score: Rutgers - 8 JMU - 20
 
Keys to the match for JMU
Considered the match of the weekend in the Keystone Rugby Conference, James Madison will host Rutgers University in playoff action. James Madison has been impressive, lighting up the scoreboard with their attack this season.
Coach Mark Lambourne states, "We think it will be a very good game as we know Rutgers are better than their record. We will need to be at our best to get to the next stage in the Keystone post season play and so are looking forward to an even balanced game."
"We are a young team with a lot of underclassmen starting for us and so this is a new experience for them and so we will have to perform at our highest level to compete. We anticipate that Rutgers will be well coached, have a strong forward pack and capable backs. We will need to compete in both areas," added Lambourne. 
JMU keys to success this fall
"The question would imply we have been successful I am not sure I agree at this stage of the season. As the club's Coaching Director I do not judge success necessarily by wins and losses, but how we are developing as program and how we are progressing towards our objectives. While we have won several games by large scores I am not sure we have been successful in getting better as rugby players and as a team and certainly do not feel  we are playing to our potential. We were particularly poor against Pitt and have not been consistent and have not played the type of game I know we are capable of achieving at this level. I am hopeful that if we are 'successful' in winning this weekend then we will judge whether this season has been 'successful' after the ACRC Bowl Series that we are excited about playing in as another learning experience for this young and developing program," concluded Coach Lambourne.
Rutgers University
And, no one should sleep on Rutgers, as they lost two games by less than 3 points this season and are looking to go deep into the playoffs.
Keystone Finals
On Saturday, November 14th, the winner of Saint Joseph's vs. Lock Haven match will play the winner of the James Madison vs. Rutgers match will play Saturday at championship weekend at Shippensburg University. The Keystone champion will be crowned on Sunday Nov. 15th.
James Madison University East Campus Fields Complex