Michigan 24 @ Michigan State 14
Saturday September 26, 2015 - 12:00 AM
September 26, 2015

-

1:00PM

@ Service Road Fields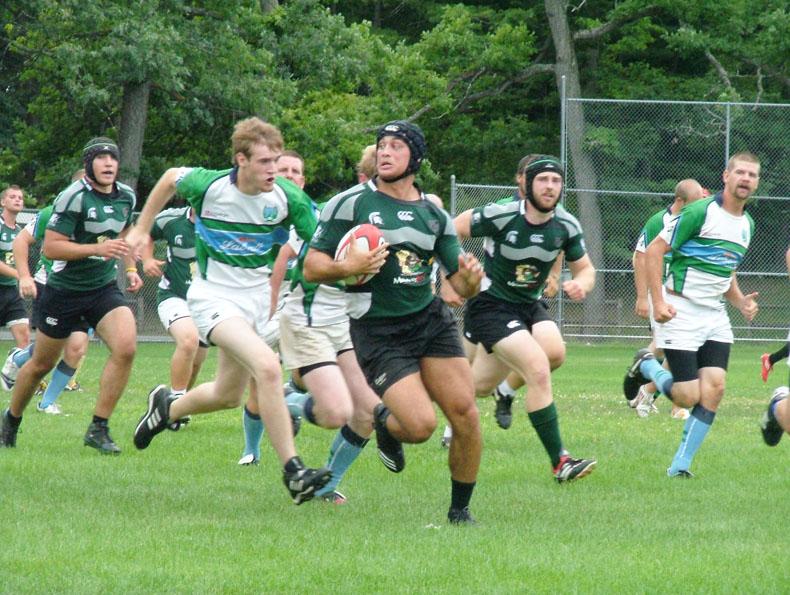 Michigan defeated Michigan State in this heated Big Ten rivalry.
MSU steals the kickoff and begins to attack.
Lancaster breaks the line and presses into the Wolverine 22.
Penalty on Michigan leads to An MSU line out on the 5m line.
MSU knocks it on in the line out, scrum Michigan who kicks out.
Vanderlaan is pushed into touch and Michigan is attacking near midfield
Penalty on MSU and it is a Michigan line out inside the 22
Penalty on MSU and Michigan strikes first. 3-0 Michigan
Michigan attacks from the kickoff and kicks to touch. MSU line out lost in the 22.
Knocked by Michigan, scrum my the Hoonyaks leads to attack
High tackle leads to a MSU line out.
Linebreak by Woods hindered by a knock on. Scrum Michigan inside their own 22.
Michigan kicks straight out, MSU line out near the 22. Stolen though and kicked out by Michigan for another line out to MSU.
Kick is charged by Mike Vanderlaan who also picks up the ball and takes it for an MSU try! Conversion by Shiguango good. 7-3 Michigan State
Todd Else with the line break leads to a huge change in territory! Michigan again playing out of its own 22!
Offsides on Michigan leads to a MSU line out near the 22
Penalty near the posts. Shiguango will kick for points!
Kick no good, 22 drop out
Another penalty on Michigan will lead to another MSU line out.
Off the scrum MSU moves it left to Mike Vanderlaan who scores anoth Michigan State TRY! Conversion good 14-3
Michigan works the ball down the field and scores a try. Conversion successful. 14-10 near the 30th minute.
MSU turns it over and begins attacking near Michigan's 22.
Knocked on by green, a defensive wolverine scrum near the 22.
Half time. Michigan State leads Michigan 14-10
Spartan's getting ready to start the 2nd half 
Michigan is caught entering the ruck illegally. Gallagher kicks for touch.
Knocked by MSU in the line out, Michigan wins the scrum
Michigan breaks the line but a big counter Rick leads to MSU stealing the ball.
Michigan breaks it right to the corner for a try. Conversion no good. 15-14 Michigan.
Scrum down near the 50 to MSU.
Michigan scrum near the MSU 5m line.
Goal line defense holding but an offsides penalty resets
Try to Michigan. Conversion good. 22-14
Pressuring on the kickoff MSU pushes the wolverines back but a penalty on MSU
Line out stolen by MSU and a penalty leads to an Hoonyak line out.
High tackle by Michigan and MSU is attacking
Still 22-14 Michigan with about 4 minutes remaining
Final 22-14 Michigan over State
PreMatch WriteUp
It's game day in East Lansing, and the Hoonyaks are taking on the University of Michigan in a match that will have a resounding impact on the Big Ten standings. Both teams are coming off of big wins: Michigan defeated Notre Dame 68-31 while the Spartans hit up the Minnesota Golden Gophers for a 65-5 Victory. 
Who will remain standing after this Saturday's Game? Only time will tell. 
The A-side kicks off at 1pm with the Second Side playing right after.