Mid-American Championship: Bowling Green edges Western Michigan
Sunday November 8, 2015 - 12:00 AM
November 8, 2015

-

1:00PM

@ Mid-American Conference Championship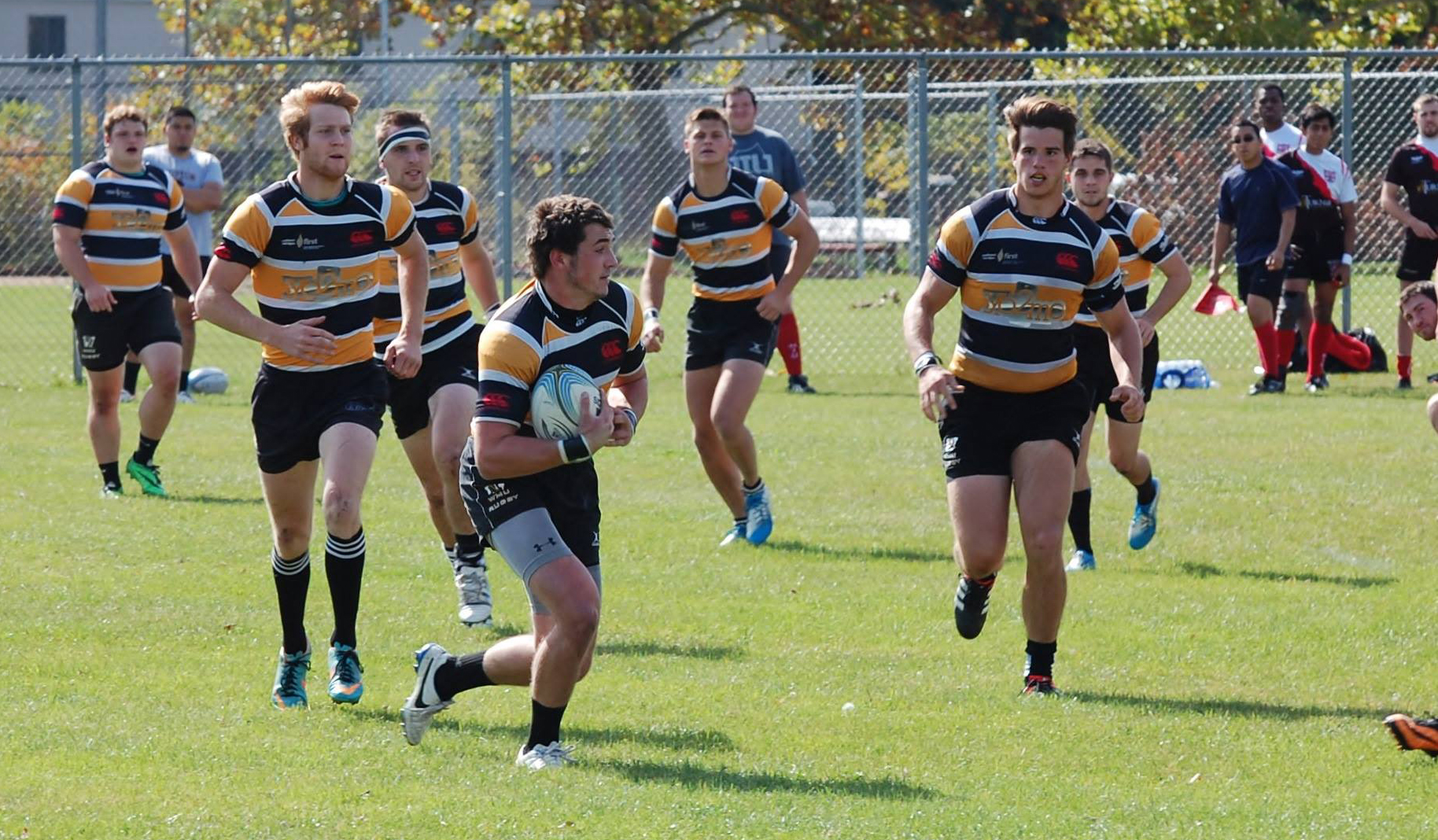 In a match where the lead changed six times, including four times in the last ten minutes, Bowling Green .@BGSUMensRugby scored on the last play of the match to pull ahead of Western Michigan for the final time.
In a tweet that was listed as being in the 80th minute by @BGSUMensRugby, Bowling Green center Griffin Palmer chipped ahead to Adam Regini who picked it up and scored the winning try. Nick Ross's conversion sealed the 34-29 victory and MAC Championship for the Falcons.
Western Michigan will be attending the 2015 ACRC Bowl Series in a match against St. Bonaventure. Bowling Green has yet to confirm their participation in 2015, but is tentatively scheduled to play James Madison University in a Saturday morning match. JMU is in the final four of the Keystone Rugby Conference which will be settled on the weekend of Nov 14-15.
This is the second year in a row that Western Michigan has lost to Bowling Green in the Mid-American Conference Championship Match.
Bowling Green State Univ. Twitter Feed @BGSUMensRugby
National anthem has concluded and we are waiting for kickoff
Kick is up and we are under way in this championship
1' scrum awarded to Western at center field.
2' off an early drive by The BGSU pack, a penalty for early push is called, and Western sets up to kick for point
3' kick for points is no good. BGSU on the attack.
4' after returning kicks to each other, BGSU run the ball up to mid field
5' BGSU unluckily knock the ball around the opposite 22 meter line. Scrum down to the Broncos
7' penalty awarded to BGSU for a high tackle. Ross kicks for touch and BGSU Lineout is awarded to BG
8' BGSU lose possession at a ruck. Western is working their way down the field.
11' McNamara is sent to the sin bin for not rolling away.
12' Western kicks for points and take the lead 3-0
14' Western returns a clearance kick to score in the corner. The kick is no good to make the score 8-0
16' beautiful kick by Powell, and a Lineout is given to Western
17' the Lineout is stolen, and Ross breaks the line for a score in the middle.
Self converted kick and the score is 8-7 for WMU
18' Western kicks deep and BGSU clears the ball for a Western Lineout
19' Palmer with a HUGE collision to force a knock on. BGSU scrum.
20' Ten Brink with a close interception, but sadly knocks the ball on and an intentional knock is called
21' Western is lining up to kick for points.
21' kick is good. Broncos 11 Falcons 7
22' McNamara is back in the game.
23' Western is penalized for hands in the ruck. Kick for touch and A Lineout in the Broncos zone is next.
25' after a great succession of plays, the ball goes out of bounds and Western throw the Lineout
26' messy ball and Viancourt jumps on a loose ball. BGSU is again on the attack.
28' BGSU awarded a penalty and the ball is set for a kick for point.
28' the kick is good and the score is now 11-10 for the Broncos.
30' BGSU is penalized on their own 10 meter line for a late hit.
31' the ball is kicked into touch and it will be a Lineout for the Broncos deep in the BGSU territory
32' Ball was stolen in the Lineout, and BGSU clears the ball a little down field for another Western Lineout
32' with Western on offense, they are driven back about 25 meters. Great defense by BG
34' BGSU is pressing, and a knock on by Western. BGSU scrum in the Western half
35' Western penalized off the scrum and the kick is taken quickly.
36' BGSU penalized and Western looks for touch.
37' Western Lineout is mishandled and Adujar makes a big hit.
37' Forward pass by Western, and a BGSU scrum on the Western 10 meter line
38' off the scrum, the backs find a hole and Adam Regini touches the ball down!
38' kick by Ross is no good, and the score is 15-11 for BG
39' Lineout to Western after a kick for touch by BG
39' Lineout is stolen. BGSU is on the attack.
40' ball is lost forward and half is called
Halftime: BGSU 15 WMU 11
Second half is under way!
41' Palmer and Ten Brink with a great run down field
42' ball comes to McNamara and a great dummy. Offload to Mockus for a try!!
42' The score is now 20-11 in favor of BG
43' Scrum down for Western in the BGSU territory.
45' Western is pressing and retaining their ball.
46' Regini catches a ball perfectly and the ball is ran out of bounds at the 25. Western Lineout.
48' scrum down to BGSU after a Western knock
49' beautiful clearance kick by Ross
50' BGSU penalized and Western ball at Mid field.
50' Lineout to Western
51' BGSU penalized and Western is setting up to kick for points.
52' kick is no good, and BGSU kicks the ball off a 22 Lineout.
53' Western touches the ball down in the corner off a return from the 22 Lineout kick.
53' The kick is no good and the score is 20-16 for BG
55' kickoff is short and a scrum to Western follows
55' penalty against BGSU in the scrum. Western ball.
56' Mockus given a yellow card for a no wrap tackle.
60' some messy play, but BGSU is awarded a penalty. They kick for touch and waiting for their Lineout.
61' A ball is intercepted and Western scores on a long run. Kick is no good and the score is 21-20 in favor of Western.
Andujar and McNamara are subbed out for Cranmer and Igboaka
65' BGSU drive the Western maul out of bounds and BGSU is given the ball.
66' ball is lost out of bounds by BG
68' Western works the ball down and scores in the corner.
69' Kick is no good and score is 26-20
70' Ted Rink catches a kick to retain possession
71' BGSU scrum on the Western 5 meter line.
72' the ball is spun around for 3 phases and Nick Ross scores again!!! Kick is next.
73' Ross kicks the conversion and BGSU takes the lead 27-26
74' ball is carried out by BGSU and Western Lineout
76' wonderful BGSU defense
76' BGSU penalized in their own zone. kick for points to follow
78' kick is good and Western takes the lead 29-27. 2 minutes left.
80' scum down to BG. Time is expired and this is our final play.
80' chip kick by Palmer and Regini picks it up for a score!!!!!
We are waiting for the final whistle 
WE ARE THE 2015 MAC CHAMPIONS!!!!
Final: BGSU 34 WMU 29
Mid-American Semi-Finals
Western Michigan 46 - Dayton 5
Mid-American Conference Championship