Mississippi State vs South Carolina
Saturday November 15, 2014 - 12:00 AM
November 15, 2014

-

1:00PM

@ SCRC Championship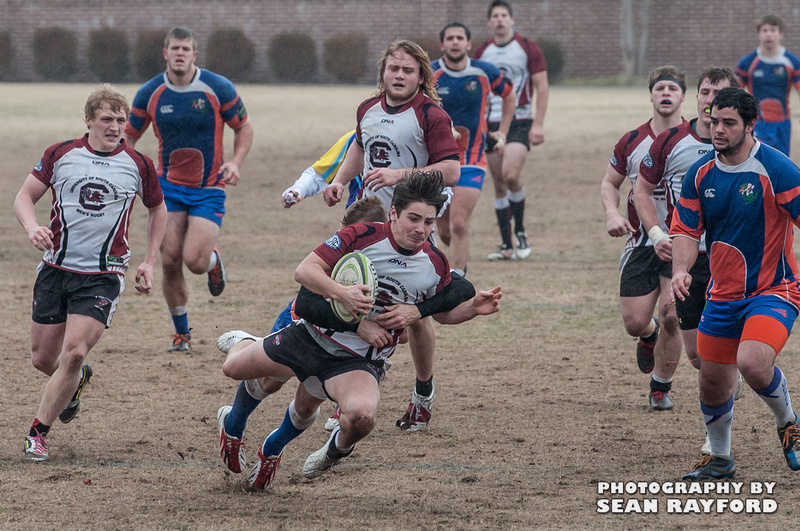 The University of South Carolina (East #2) (7-1, 5-1 SCRC) defeated a strong Mississippi State (West #1) (5-1 SCRC) squad by a score of 55-7 in the semifinal round of the SCRC Championships in Columbia, SC. USC will play for the SCRC championship tomorrow. In the process, USC clinched a spot in the ACRC Bowl Series.
The Gamecocks rolled to a 55-7 victory. "We played our basic game play, tried to keep the field spread, and our forwards basically controlled the pace of the game," said South Carolina head coach Mark Morris. "Every time we got into trouble we did a good job of poaching the ball off of them. It was basically just ball control for us today."
Scrumhalf Brian Keown had a great day distributing the ball between the forwards and the backs while adding two scores for the Gamecocks. Captain Zack Gorman added a couple of scores for the forwards, running some solid lines and helping South Carolina control the set piece. Combined with a solid kicking effort from the Gamecocks, the Bulldogs faced an uphill battle all afternoon. "Mississippi State played hard, they never backed down, but we had a really good game and just basically controlled it the whole time," Morris concluded.