Tennessee Out Duels South Carolina 17-14
Saturday October 31, 2015 - 12:00 AM
October 31, 2015

-

1:00PM

@ Bluff Road Field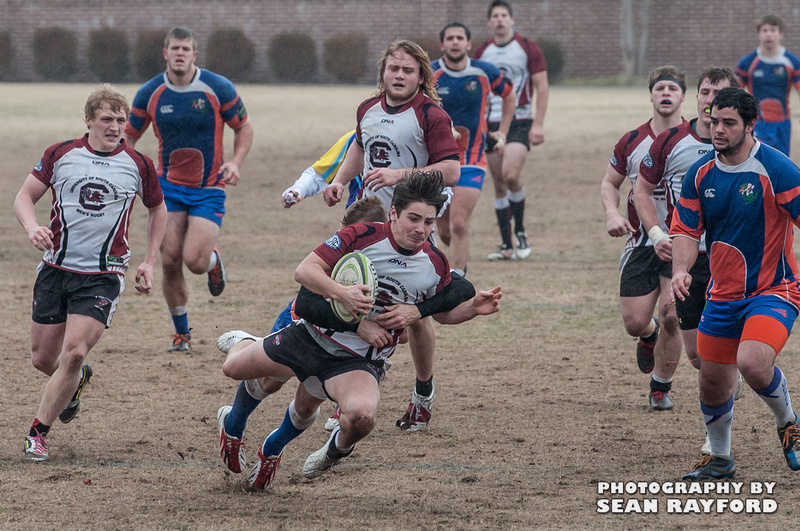 Tennessee (6-0) traveled to and defeated South Carolina (5-1) by a score of 17-14. The Gamecocks and the Vols both went into the contest undefeated. With the win, Tennessee lays claim to the SCRC East Division title.
Both teams clinched a trip to the SCRC semifinals. The semifinals take place Nov. 14 with the top finishing team of each division hosting the #2 team from the opposite division. Tennessee will host Florida while South Carolina will now travel to Alabama.
South Carolina and Tennessee Twitter Feed
30 minutes away till a Carolina kickoff! Help us "Tackle Breast Cancer Together" while we take on Tennessee for... http://fb.me/5sWLNiOss 
The Vols face their toughest match of the season today. Winner takes the East Division; loser travels to take on Alabama (6-0) next week
Tennessee enters the pitch ready to take on South Carolina 
Charles Jacobi starts the game with the opening kickoff for the Vols
Center Mike Rudzinski goes to the bin for 10 minutes for an offside play. Andrew Sayers converts a PK. Tennessee 3-0
South Carolina's Prop Dylan Blackburn gets 10 minutes in the bin after receiving a yellow card.
Tennessee still up 3-0 at the half
After a long fought drive, SC uses a quick back line to James Whipper touches one down in the corner. Kick is converted 7-3 Carolina.
Sean Barnes checks in an scores Carolinas second try. Score 14-3 Gamecocks.
Captain Tim Hamill back on for blood sub
Sam "sparkles" Hawkins uses support to break the line and answer back for the Vols. Sayers conversation good. 10-14
Penalties and restarts are significantly impacting both teams
Vols receive a yellow card for illegal hands, with under 10 mins left in the game.
Tennessee forwards doing what they do best
Carolina attacking from mid field. 15 minutes remaining
SC suffers another yellow card while Tennessee knocks at the door
Bobby Hughes breaks off the maul to score a try. Andrew Sayers converts. 17-14 with final minutes of play.
The Gamecocks run out of time on the attack. Tennessee takes the win.
Tennessee emerges on top in the most nail biting finish!!! Final 17-14
Carolina Rugby loses a hard fought match to the Tennessee Volunteers, running out of time on the final attack to... http://fb.me/7DweZdZ7u 
Next up for the Gamecocks, Mississippi St at home.
Special thanks to the many friends & family who came out to support! #forevertothee #gococks
The game took place at 1 p.m. at Bluff Road Field, across from Williams-Brice Stadium on the campus of the University of South Carolina.
The SCRC championship game will be played during the American Collegiate Rugby Championship Bowl Series in Charlotte on Nov. 21.