Warwick Camp Barracks, Bermuda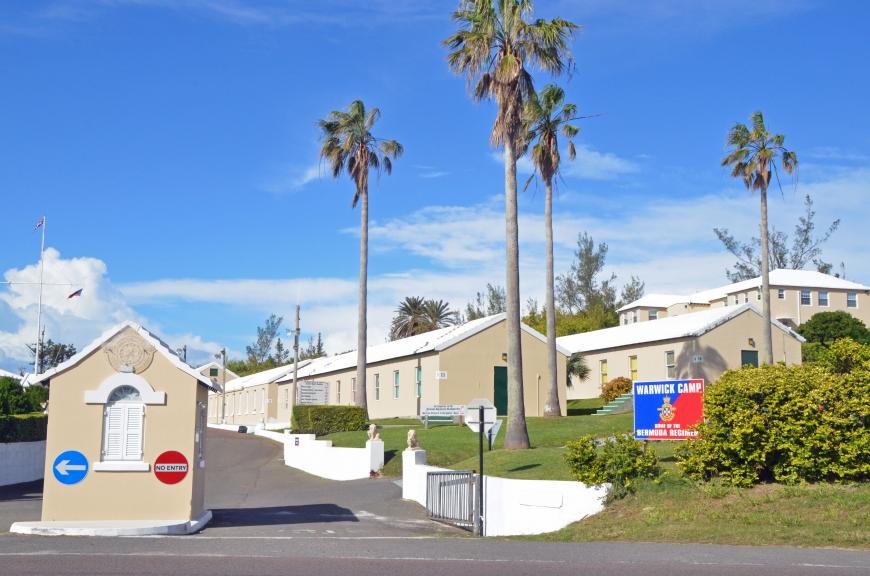 Warwick Camp is the housing location for the 2023 Ariel Re Bermuda 7s to be played at the Bermuda National Stadium on March 15 - 16, 2019. Teams will be staying at the barracks from Thursday evening March 14th through Sunday March 17th. The camp was also the location for the 2019 Ariel Re Bermuda 7s, 2018 Ariel Re Bermuda 7s, 2017 Ariel Re Bermuda 7s, and 2016 Ariel Re Bermuda 7s.
About Warwick Camp
Warwick Camp is located in Bermuda's Warwick parish on the south shore and opposite to the entrance of Chaplin Bay. Established in the 1870s, the 'barracks' is now the Head Quarters and the only facility of the Bermuda Regiment. The Bermuda Regiment, also known as Royal Bermuda Regiment, is the only defense unit of Bermuda, a British Overseas Territory.
The South Road passes through the camp was earlier known as the Military Road. Today it is a public thoroughfare. 
The camp is also used to house rugby players touring Bermuda for the Classic in the fall and the Ariel Re Bermuda 7s in the spring. There are 12 barrack rooms, a canteen and an officers mess inside.
The Headquarters of Bermuda Regiment has its own building which also contains an armory. The magazine storing small arms is still used by the coastal artillery battery. There are two 6-inch cannons mounted on top a hill. The cannons were the last guns built by the British in Bermuda in 1939 and mounted to guard against any invasion from the south shore during World War II.
Regimental Headquarters (RHQ)
+1 (441) 238 1045
bermudaregiment@gov.bm
Things You Should Bring
Towel
Soap / Shampoo
Water Bottle
Tape and Med Kit for team
Meal Times for the Ariel Re Bermuda 7s 
Breakfast - 7:15-8:30am
Lunch - 12:00pm-1:30pm
Dinner - 6:30-8:00pm
Food allergies can be accommodated at no extra cost, with advanced notice.
Any team can substitute packed cold or hot container meals with advanced notice.
Late-night snacks can also be added at a small cost.
Warwick Camp Location
South Shore Road, Warwick, Bermuda. Opposite to Chaplin Bay. 
Bus route #7 (operates between Hamilton and Dockyard). 
View Warwick Camp on a Google Map »